Fall Tour Forges On Despite Restrictions
June was a glorious month when the phone began ringing and emails filled the in-box that live music was returning. Much of the summer was spent in the office planning rather than on festival stages performing. It was a small price to pay for a fall tour that promised to be a full return to form...until yet another pandemic wave washed over the province. Luckily, two sold out shows in September stayed intact as well a show with House of Hush burlesque set for Halloween weekend (Oct 30) in Calgary. November 19th sees a return to the Bailey Theatre in Camrose with our good friends, The Frolics, followed by a night at The Vat in Red Deer (Nov 20). Despite the restrictions and disruptions THANKS to all of you for supporting the return of live music! For show details simply click the SHOWS tab. 

---
LIVE! Under the Darkest Sky Released on Streaming and Downloading Platforms
With the hope of live shows returning this summer, we're excited to announce our live album, "LIVE! Under the Darkest Sky" is now available for the first time on all major streaming and download platforms. Originally available as a limited edition, vinyl-only release, LIVE! Under the Darkest Sky showcases the best songs on the set list and the unbridled enthusiasm of our audience. This summer, TAKE THE SHOW WHEREVER YOU GO!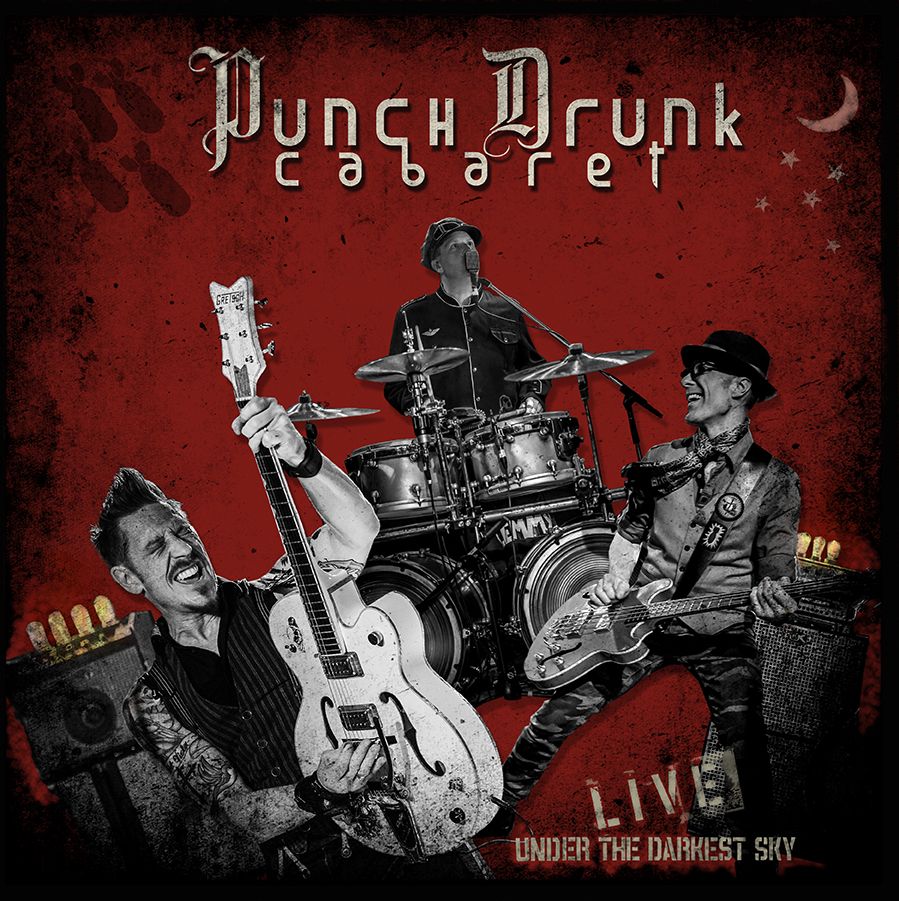 ---
National News Coverage from Postmedia
Call us old fashion, but it's still exciting to see PDC written up in actual newspaper print. With the near obliteration of print media, it's even more surprising when it happens in 2021. Luckily, long-time journalist, Tom Murray took an interest in the recent international awards for Best Soundtrack the band received for its work on Boneyard Racers. The Edmonton Journal feature sparked a number of publications to follow suit across the country, growing from a local to a national story. Read the full article HERE.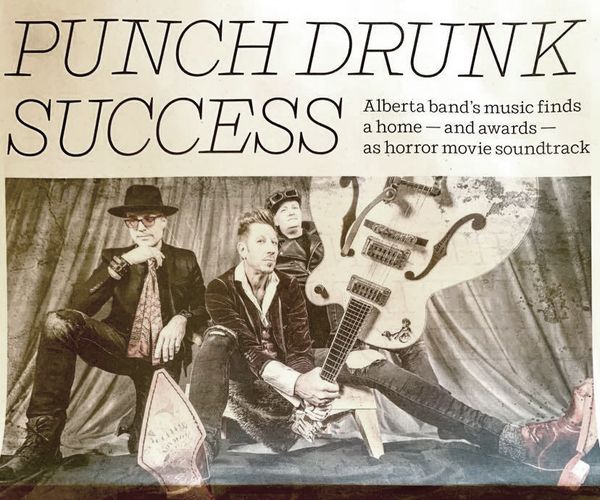 ---
International Film Awards Strike Twice
It's been an outstanding start to 2021with the surprise announcement that PDC's contribution to the film, Boneyard Racers, has won two international awards for Best Original Score/Soundtrack from the London International Monthly Film Festival (UK) and the Dark Story Festival (USA). This is the first time the band has been awarded for soundtrack work which we share with David Heacock who wrote the incidental music for the film. Production began in September with PDC lending a performance cameo and three tracks from Vampire Anthems (Bad Crush on Goth Girls, Damnation Station Radio and Too Tired for the Devil Tonight). The film itself has picked up a number of awards including Best Action Film from the Vegas Movie Awards. Watch for a Fall 2021 release. See the trailer HERE.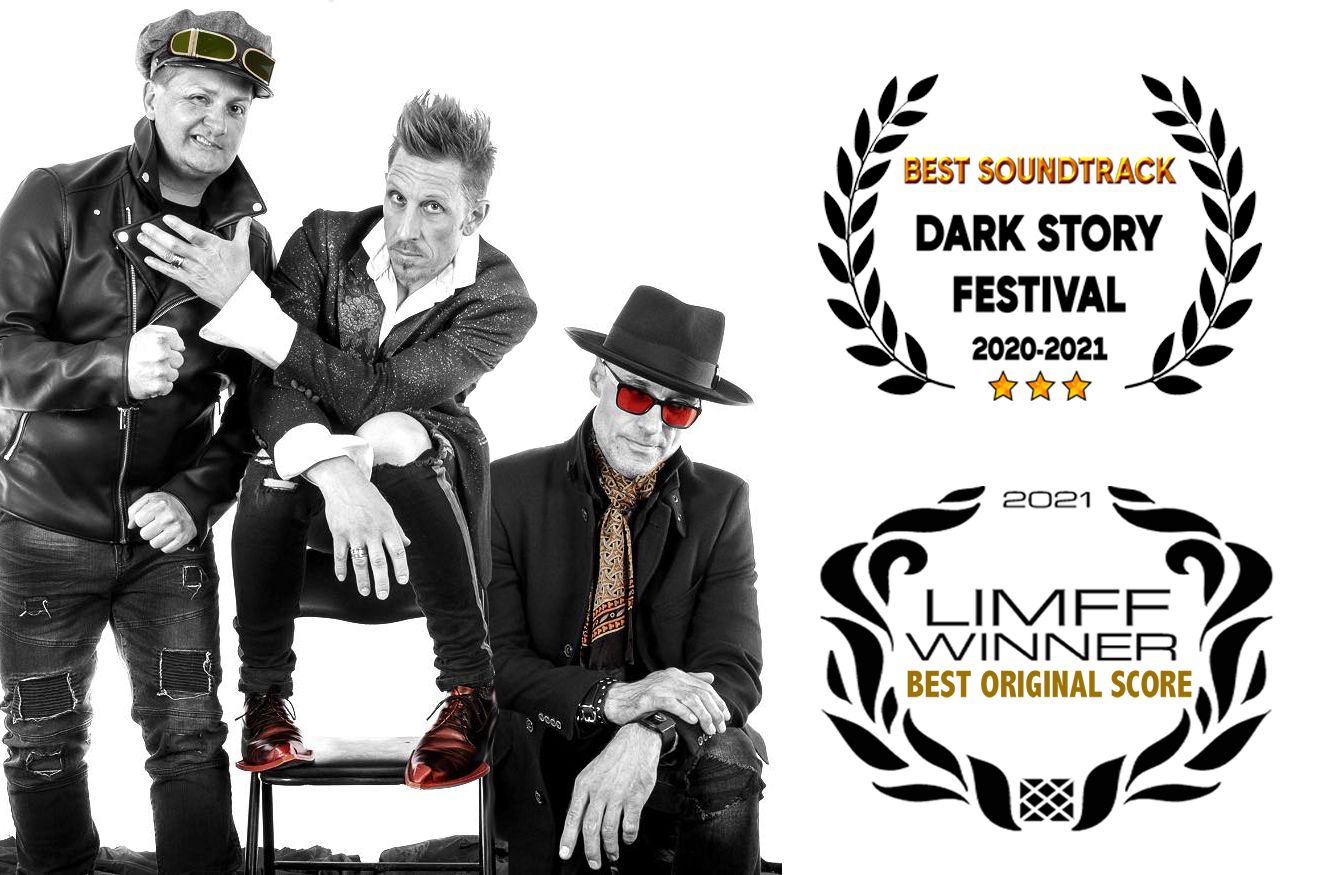 ---
Modern Luxuria Magazine Feature
Edmonton's best culture magazine took a liking to PDC in November with a generous four page feature.
Read the full article here: https://issuu.com/hello-modernluxuria/docs/modern_20luxuria_20vol_206_20november_202020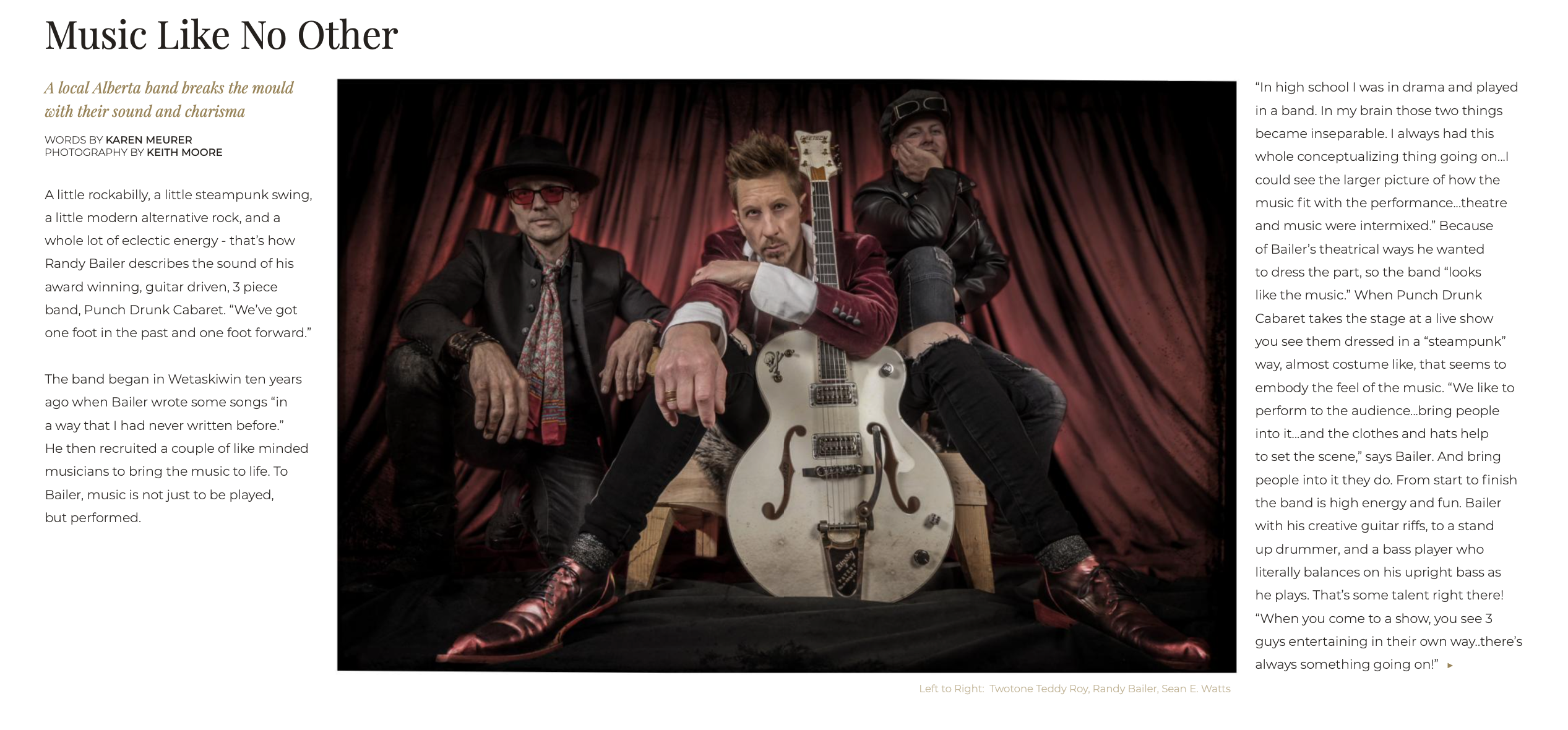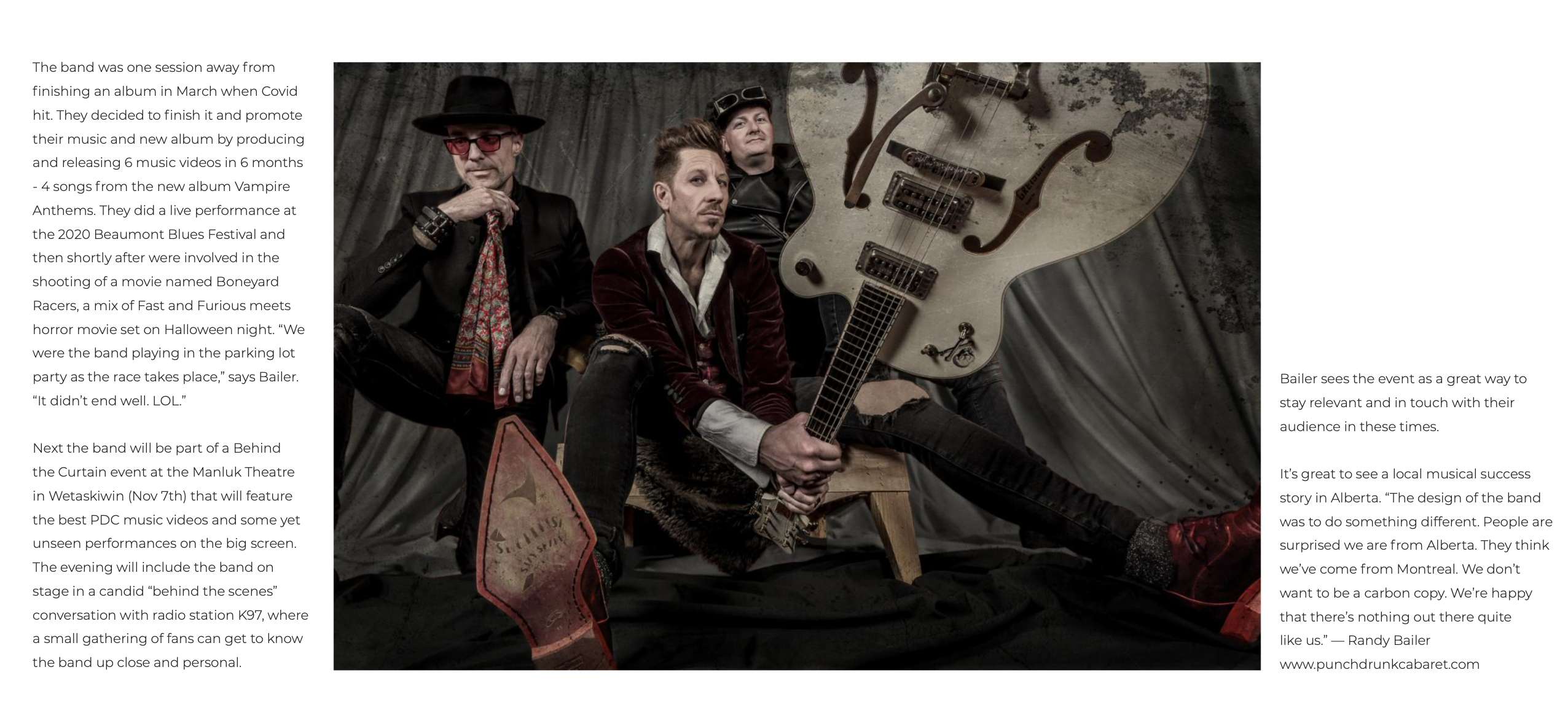 ---
Behind the Curtain with Punch Drunk Cabaret
Described as a mix between a rock n roll film festival and Inside the Actor's Studio, Behind the Curtain with Punch Drunk Cabaret promises to be an event like no other. Featuring the best PDC music videos and unreleased performances projected on the theatre big screen, the evening also includes rare, behind-the-scenes stories and a candid, LIVE interview lead by Edmonton's best known radio host, Terry Evans of K97. Afterwards, Terry and the band will be taking questions from the audience before the evening ends with a Meet & Greet where PDC will be signing CDs, vinyl, and t-shirts. And, yes, there is a bar that allows patrons to take their drinks to their seats. Taking place Saturday November 7 at the Manluk Theatre in Wetaskiwin (home of two PDC videos) the show is limited to just 50 tickets. Get them here before they're gone: https://www.ticketor.com/wetaskiwintheatresociety/upcomingevents?PageId=4138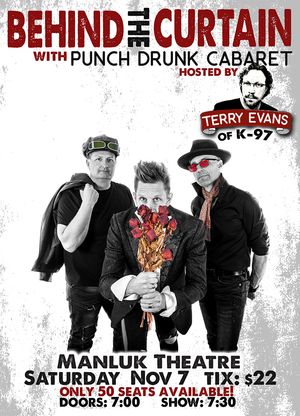 ---
PDC Joins the Cast of Boneyard Racers for Film Debut
In a year that has focused on the creation of music videos, the band recently entered into the film world with their part in the horror-thriller flick, Boneyard Racers set for release in 2021. What began as a request from the film's executive producer to use a song, blossomed into the use of three tracks from Vampire Anthems and performance cameo. The band will play host to a street party where an illegal and supernatural street race is about to take place. The September 13 shoot had its own spooky occurrences that momentarily halted production, including a false alarm fire and a police presence due to a car thief believed to be in the area. For a sneak peek, check out the trailer.
---
A Triumphant Return to Live Music at Beaumont Blues & Roots Festival
Against all odds, Beaumont Blues & Roots Fest has managed the near impossible by planning a live festival show, September 5. Taking a page from the European handbook, the outdoor show will be set up with 6 person, socially distanced "pods" to comply with provincial health standards. Tickets will be restricted to just 200 and once on the grounds, concert goers will need to wear masks when using concessions or washroom facilities. The lineup features a heavy Edmonton area roster with legacy act, Junior Gone Wild headlining the event. Punch Drunk Cabaret will take the stage at 7pm for a one hour set that's guaranteed to be packed with pent-up energy. This will also be the first time the band has performed songs from the newly released, Vampire Anthems. For more information check out: https://www.bbrf.ca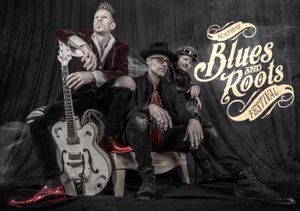 ---
Damnation Station Radio is On the Air
Back in March, the band announced that with the pandemic shutting down all live shows, our focus would be to share new music by producing music videos instead of live streams. And with that, Damnation Station Radio became the fifth song to feature a music video from the latest album, Vampire Anthems. Filmed, edited and released entirely in July, the storyline takes place in rural Russia where a sketchy, yet charismatic DJ hosts a pirate radio show that is broadcast from a rusted out milk truck. This marks the directorial debut of our own, Randl Lewis Bailer, who also edited the video. Musically, Damnation Station Radio features an unexpected disco-funk groove and apocalyptic lyrics that echoes back to The Clash and early Duran Duran.   
---
Bad Crush on Goth Girls Music Video Release
It's Randl Lewis Bailer's firm belief that PDC's video watching public loves to see the band suffer. It's been a common theme; from trudging across the frozen prairies in search of a redneck bar, climbing the elevations of the harsh Alberta badlands or being nailed in a casket, buried and nearly burnt alive. The latest full cast/production video doesn't disappoint in the misery department as the band is subjected to a television shoot littered with technical issues that result in members either being gassed, wind blown or drowned, all while beautiful, disinterested "goth girls" look on. As always, the band's suffering provides the audience's enjoyment. Once you've had a look, be sure to subscribe to the Punch Drunk Cabaret YouTube channel for the full library of award winning music videos. https://www.youtube.com/channel/UCMrEVPG6AAXv1-eMZxojsRw
---
New Album, Vampire Anthems Released! 
(and what you need to know about it)
-Parts of the album were recorded on iPhones. The band was one session shy of completing the album before the global lockdown hit, so some parts had to be recorded on iPhones and emailed to the studio.
-The lyrical content is uncannily prophetic. Although songwriting sessions began in late 2018 and were completed last spring, the references to doomsday, strange energy and tumultuous times sound as if they were written mid-pandemic.
- The title is not inspired by schlock horror films. Vampire Anthems, uses the term "vampires" as a metaphor for "survivors" and the songs are, indeed, anthemic.
-The production is epic. Chains, cellos, and guitars contorted into synthesizers; as producers, Bailer and Watts used the studio as a laboratory for cinematic sounds. 
-Dancing in the Dark. Musically the album is influenced by early 80's post-punk but with signature shards of rockabilly guitar riffs. Dark lyrics set to insatiable rhythms.  
-June 2020 Release Date. Since it's inception in 2010, the band has faithfully released an album every two years. Pandemic be damned, Vampire Anthems was released right on schedule.
-Where to get it. Vampire Anthems is available on all digital platforms including right here on the website where many tracks are FREE. All we ask in return is to share with as many people as humanly possible and leave us some feedback.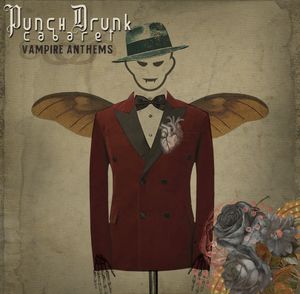 ---
First Single Released from Vampire Anthems
The first single, We're All in For it Now! has been released on iTunes for those of you who want a head start on building the ultimate summer playlist. Like a bullet train fuelled with pop-punk energy and frantic steampunk swing, We're All in for it Now! delivers an uncanny lyrical urgency capturing the zeitgeist of these agitated times. The apocalypse never sounded so good.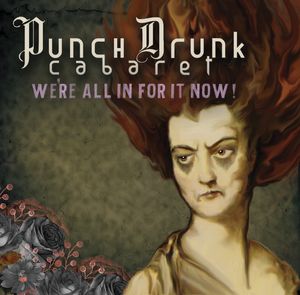 ---
Collaborative Video Gains International Attention
After a short campaign of reaching out to fans and friends via social media asking for quarantine selfies, the band released its second video, Beautiful & Decadent on April 27. Not only did we receive more submissions than we could handle but to our surprise, the video was quickly given an international audience when German webzine, UnArt TV featured it on their page the following day. Thanks to all who took the time to submit and congrats to those whose photos made the cut. The next video to preview music from the upcoming studio album, Vampire Anthems, will be released in mid-May and promises some David Lynch-like images set to psycho-surf sounds. New territory, indeed! 
---
Choosing Music Videos over Livestreams
With a global pandemic completely obliterating live performances for the foreseeable future, the industry changed overnight from the communal experience of live concerts to unstable livestreams and couch cams via social media. For those familiar with the band's indefatigable live energy and visual aesthetics, attempting wobbly couch cam streams simply doesn't fit the PDC sound and style. Instead, we're staying the course with the production and release of videos from the new album, Vampire Anthems, but upping the ante by reaching out for collaborative opportunities. After the first video for We're All in for it Now! was released in March, we reached out via social media for friends and fans to submit self-isolating selfies based on the theme of the next song, Beautiful & Decadent. We were overwhelmed by the response and are excited to premiere this collaborative work on April 24th. Already, a third and fourth video are set for release in May and June. We hope you enjoy our attempts at producing the best quality work we can. All we ask in return is to share, share, share!