Summer Tour 2023
Who doesn't pine throughout the long winter months waiting for the return of summer events? We certainly do, and couldn't be more excited to hit he road this summer! For full details, checkout the LIVESHOW section of the website.
June 23  Better Than Freds, Grande Prairie, AB
June 24  Better Than Freds, Grande Prairie, AB
June 30  Magnificent River Rats Festival, Athabasca, AB
July 8  Pembina River Nights, Rangeton Park, AB
July 15  Willows Music Festival, Camrose County, AB (afternoon)
July 15  Full Throttle Fever, Manluk Theatre, Wetaskiwin, AB (evening)
July 25  Taste of Edmonton, AB
August 5  Taste of Calgary, AB
August 13  Ribfest, Kamloops, BC
September 16  Argyll Community League Showcase, Edmonton, AB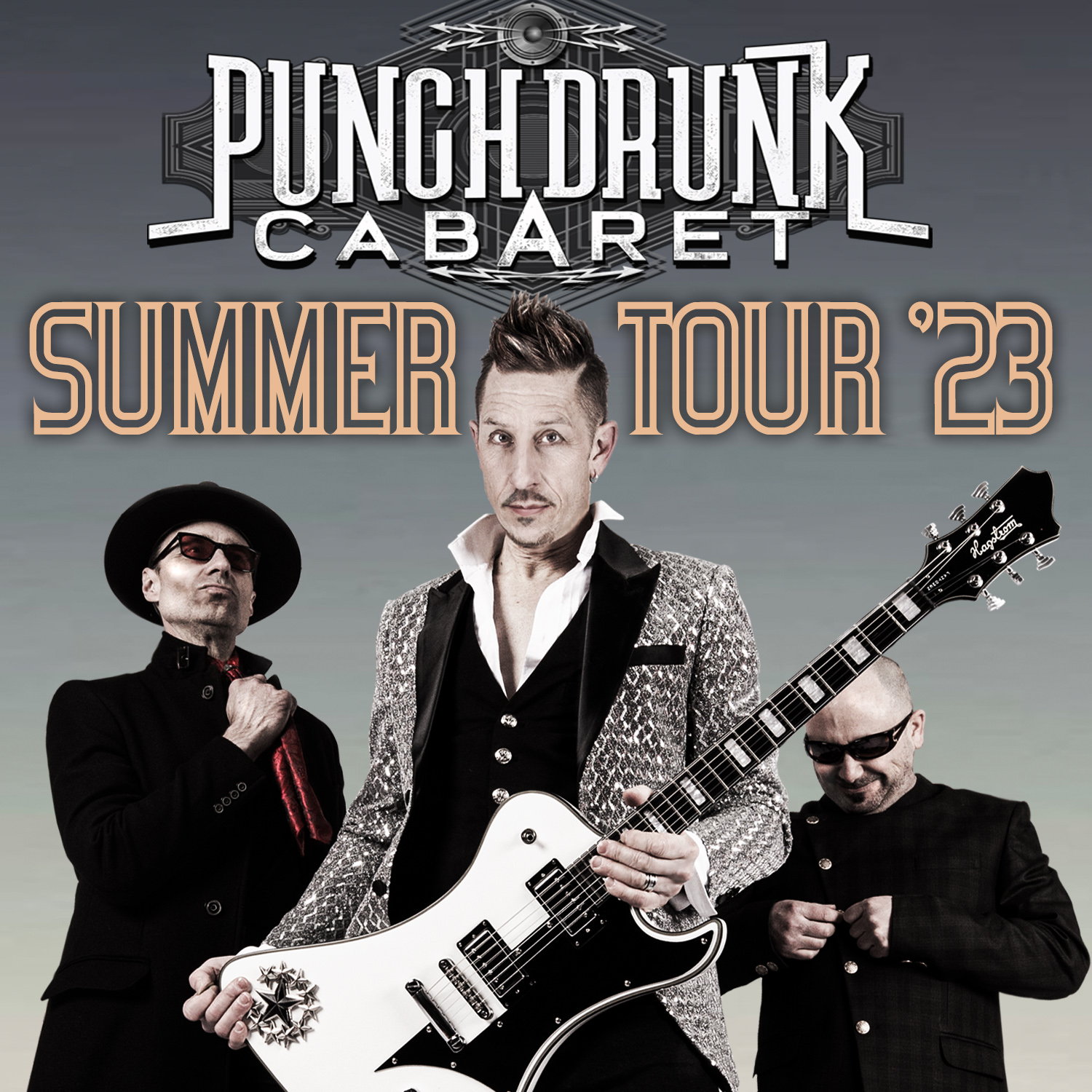 ---
Funky Moose features PDC's own Randal X Bailer on The Sit Down Podcast
Funky Moose Records is an online record store that also hosts a great weekly podcast, plaintively titled, The Sit Down Podcast. Hosts Mark and Joel made fast friends with our own Randal X Bailer, discussing everything from the band's the creation of the band's award-winning videos to their love of Goth Girls and music from the 80's. Watch it HERE: 
New Single Debuts on CKUA
It never get tiring hearing your song on the radio. Thanks to Keri Rak, host of the The Wake Up Shake Up on CKUA for being the first to spin the new single, Shot Out From A Cannon on Alberta's finest community radio station.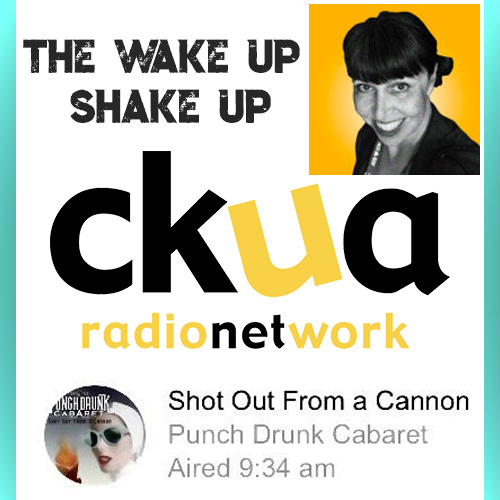 ---
89.3 FM The Raven Makes Punch Drunk Cabaret Their Friday Featured Artist
Edmonton's, 89.3 The Raven is the first mainstream station to feature the new single, Shot Out From A Cannon. Special thanks to host, Rellik for taking an interest!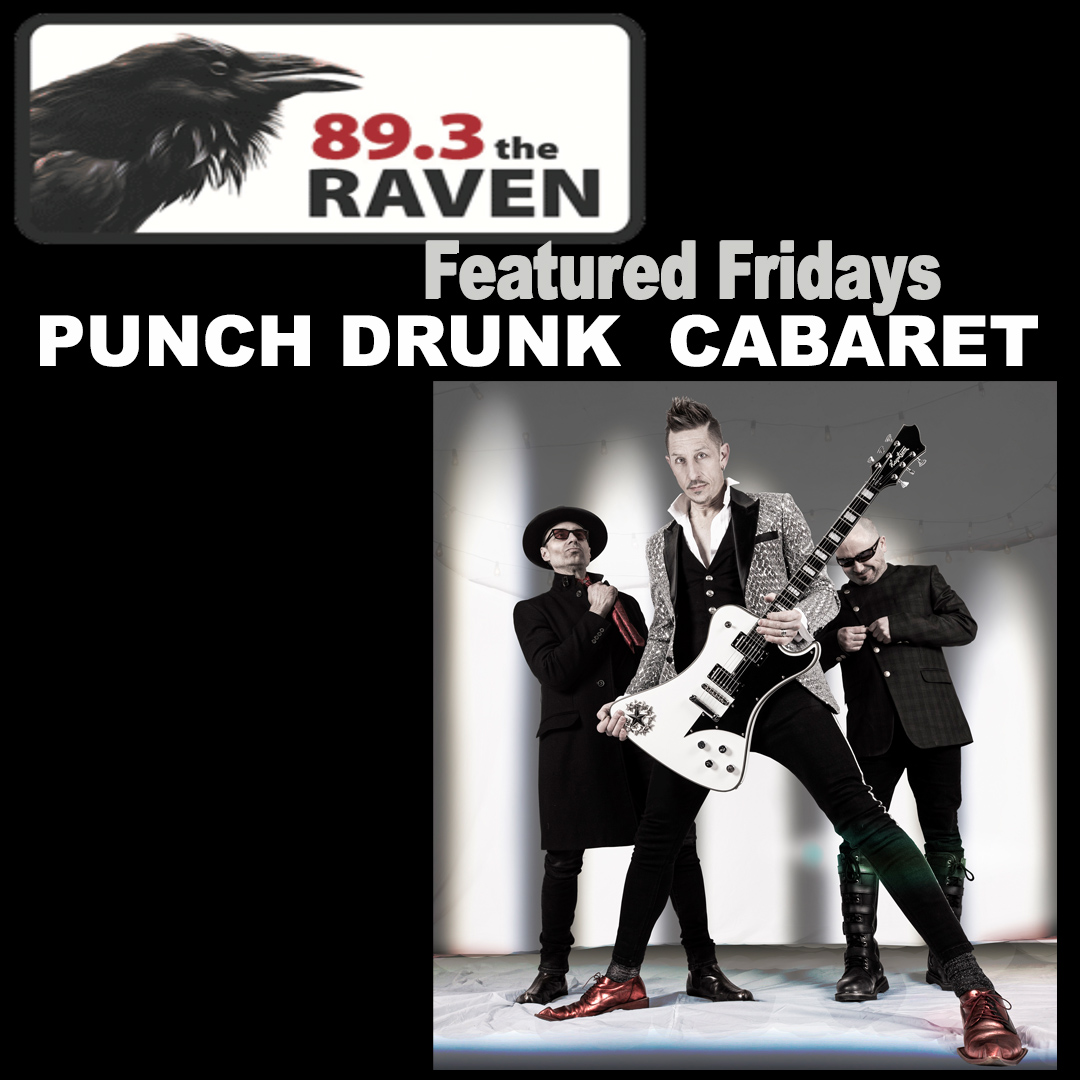 ---
Punch Drunk Cabaret Named to Taste of Edmonton, Headlines July 25 
For an unprecedented second year in a row, PDC has been added to the Taste of Edmonton lineup with a headlining spot, July 25th. Other headliners include The Watchmen, Whitehorse and The Sadies. Music coordinator, James Jarvis was so impressed with the band's 2022 performance that, immediately following their set, he extended an invite to return to the ever-popular festival in 2023. Set time is 9pm.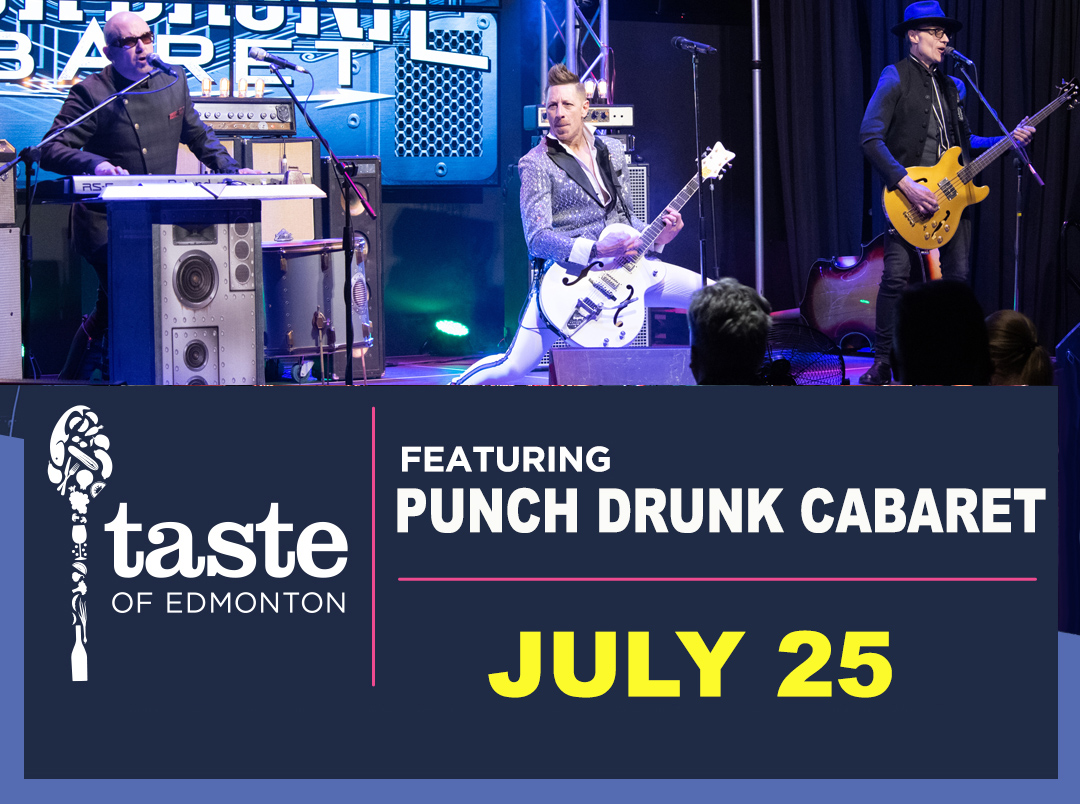 ---
New Music Video Released for Shot Out From A Cannon
Video making for Punch Drunk Cabaret always starts with a little kernel of the truth. In the latest instalment of the band's popular music videos, the boys are subjected to a demeaning cowboy who treats them like worthless simpletons. "Here in Alberta, that's likely to happen any day of the week" chuckles frontman, Randal X Bailer ". Over the years, PDC has, on occasion found themselves booked into the wrong venue, which has lead to the similar treatment they're subjected to in the video." But with all good Punch Drunk Cabaret videos, there's always a twist, and in this instance the perpetual underdogs actually come out on the winning end, out foxing the abusive aggressor. As for the characters the band play, Bailer elaborates,  "Once at a show I met Jeff Carlson, who played one of the Hanson brothers from the 1977 cult classic film, Slap Shot and that inspired the downtrodden janitors we play in the video". As for the obnoxious stage managing cowboy, that role was played by longtime roadie and friend to the band, Darcy Rickshaw McConnel, who has cameos in a number of PDC videos. Although Bailer wrote and co-directed, it was videographer Mark Remple that captured all the action. This was a reunion of sorts as Remple shot many of the band's early videos including the award winning, Beard of Bees. 
New Single, Shot Out From A Cannon, Released Worldwide
Like many other musical artists, our career was moving along swimmingly until the pandemic hit. Like the Titanic slowly being submerged in deadly waters, things seemed quite manageable at first. But as live shows ground to a complete halt, so did our lifeblood as a band. Releasing new work of any kind became pointless. It was those three years sitting on the bench that revitalized the band, giving us new hope and meaning. So when it came time to release new music, it couldn't just simply be a song, it had to be a declaration that we're back and fuelled by a new found freedom and vitality. Enter, Shout Out From A Cannon, the new single that emphasizes all the hallmarks of the Punch Drunk Cabaret sound (driving rhythems and turbocharged rockabilly inspired guitar riffs) but with a fresh and modern injection of electronica compliments of newest member, Rob R0b0t Ducharme. The single is currently available worldwide on platforms.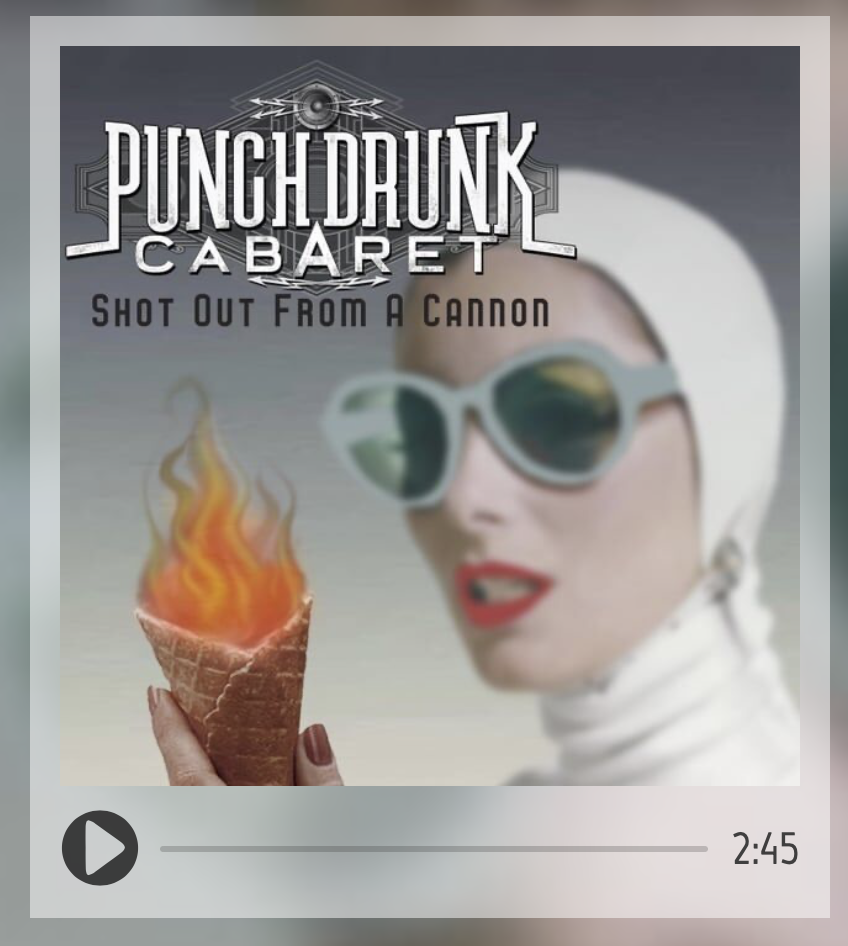 Filming Completed on Latest Music Video
Next to live shows, music videos have become a major source of how music fans discover Punch Drunk Cabaret. Having won two awards for past videos, there's always a sense of pressure to deliver something on par with what you've done in the past, while exploring new territory. Given the layoff imposed by the pandemic and the significant change in membership, it seemed like we needed a sort of reintroduction to the public. So for that reason the goal was to produce a music video that really focused on what the band looks and sounds like today. However, given that every single video released in the past seems to have some kind of quirky narrative, it seemed that something would be missing if we didn't include that crucial element. But with the help of longtime stagehand, Rickshaw McConnel and videographer Mark Remple (who shot Two Brown Bottles of Beer, Sweet Dreams, Beard of Bees) we're pleased to announce that shooting has been completed on Shot Out From a Cannon, our first music video in three years. Stay tuned for details on a late March release.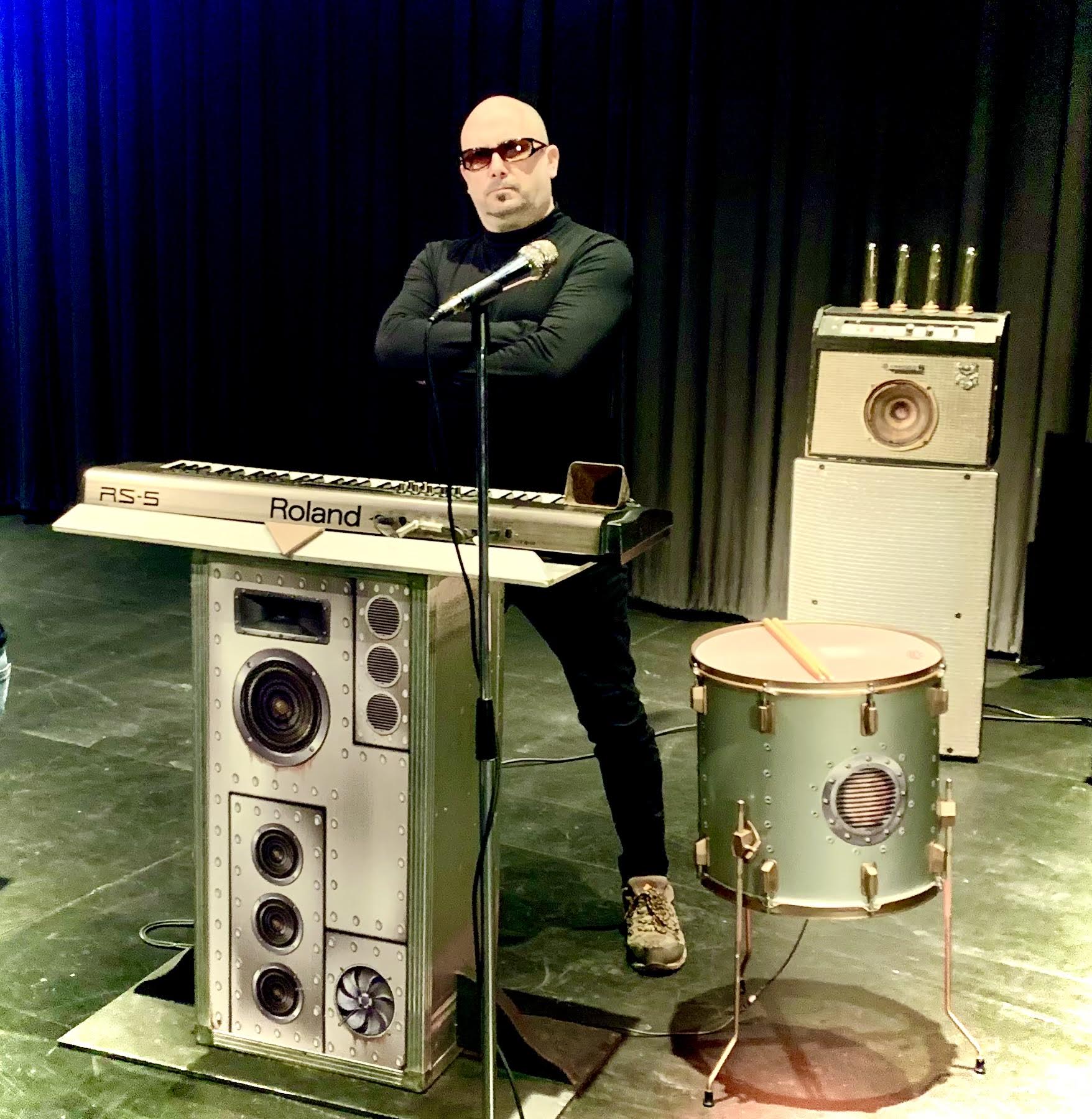 ---
Punch Drunk Cabaret Returns for Fundraising Concert 
Thanks to the Red Deer Advocate for the feature article on our upcoming appearance at the Comedy/ Music Showcase. https://www.reddeeradvocate.com/news/punch-drunk-cabaret-is-returning-for-a-fundraising-concert-with-two-red-deer-musicians/?fbclid=IwAR2JgG7s1M0OZKmu2c95ggdTtcagJyeDii1BhfYltrMBR5dY7VeYEmlzujw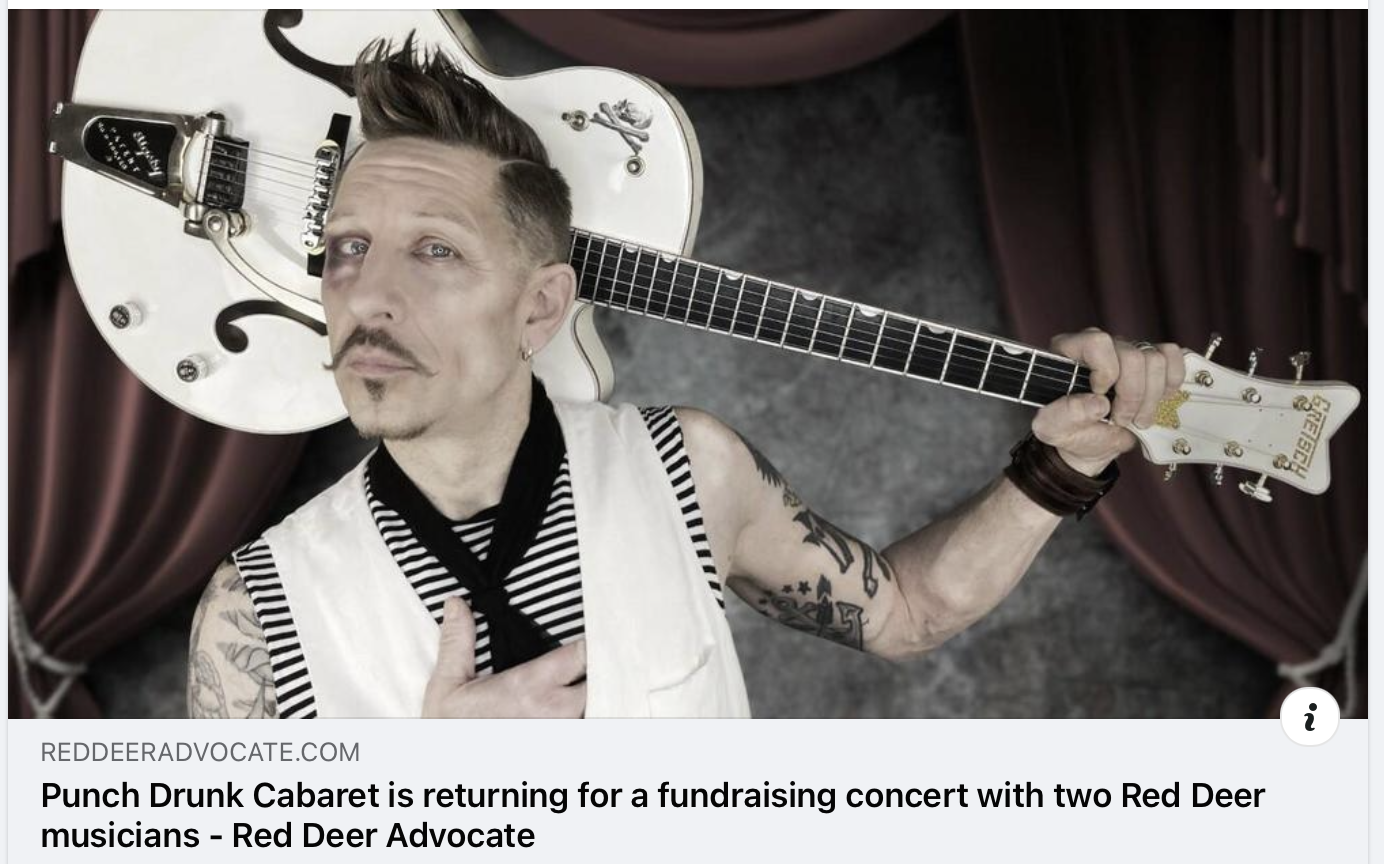 Combining With Comedians for a Good Cause
Comedy and Rock n Roll have always had a fraternal relationship; same tree of Entertainment, just different branches. Add to that a fantastic venue and a truly noble cause and you have one stellar night out! The Comedy/Music Showcase will hit the Memorial Centre in Red Deer, Saturday February 18 in support of the Red Deer Outreach Centre. The first half of the show will feature the hilarious antics of comedians, Joel Semchuk and Brad Layden with PDC closing out the evening with an hour long set guaranteed to turn the aisles into dance floors.  
Tickets are just $20 and are available on the Memorial Centre website: http://reddeermemorialcentre.net/events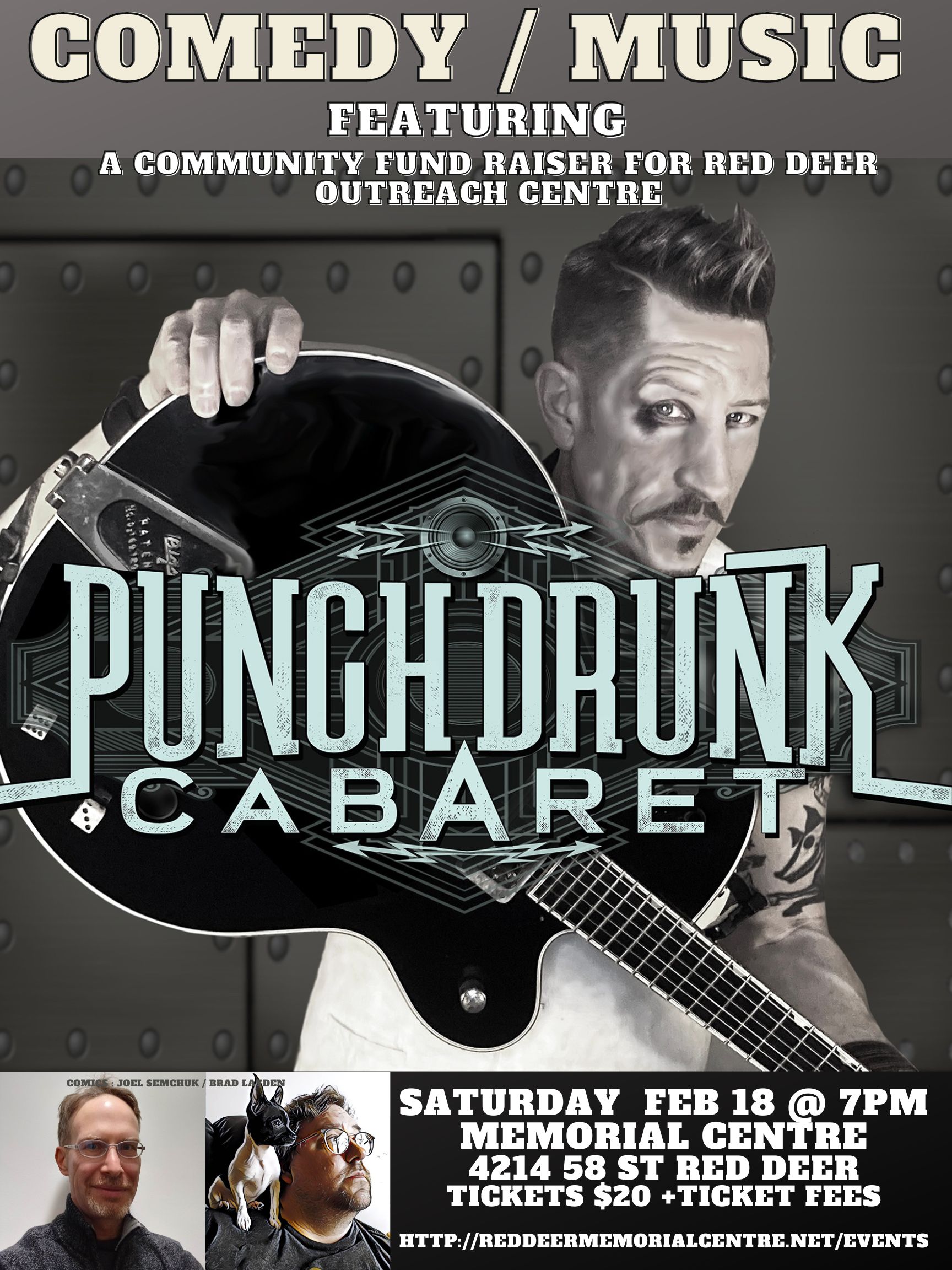 ---