London International Weekly Film Awards (UK), Best Soundtrack 2021: Winner
Dark Story Festival Film Awards (USA), Best Soundtrack 2021: Winner
Calgary Music Awards, Music Video of the Year 2019: Winner
Edmonton Music Awards, Rock Recording of the Year 2019: Nominee 
Edmonton Music Awards, Music Video of the Year 2017: Winner
Featured on "The Moment: Season 1" television series broadcast across Canada Spring 2023
Over 100 festival and special event appearances including: Tim Horton's Brier, Edmonton Elks Fanfare, Big Valley Jamboree, Medicine Hat Jazz Fest   
Appearances with Trooper, July Talk, Sheepdogs, Bif Naked, Reverend Horton Heat, Kim Mitchell, Streetheart, Hawksley Workman
---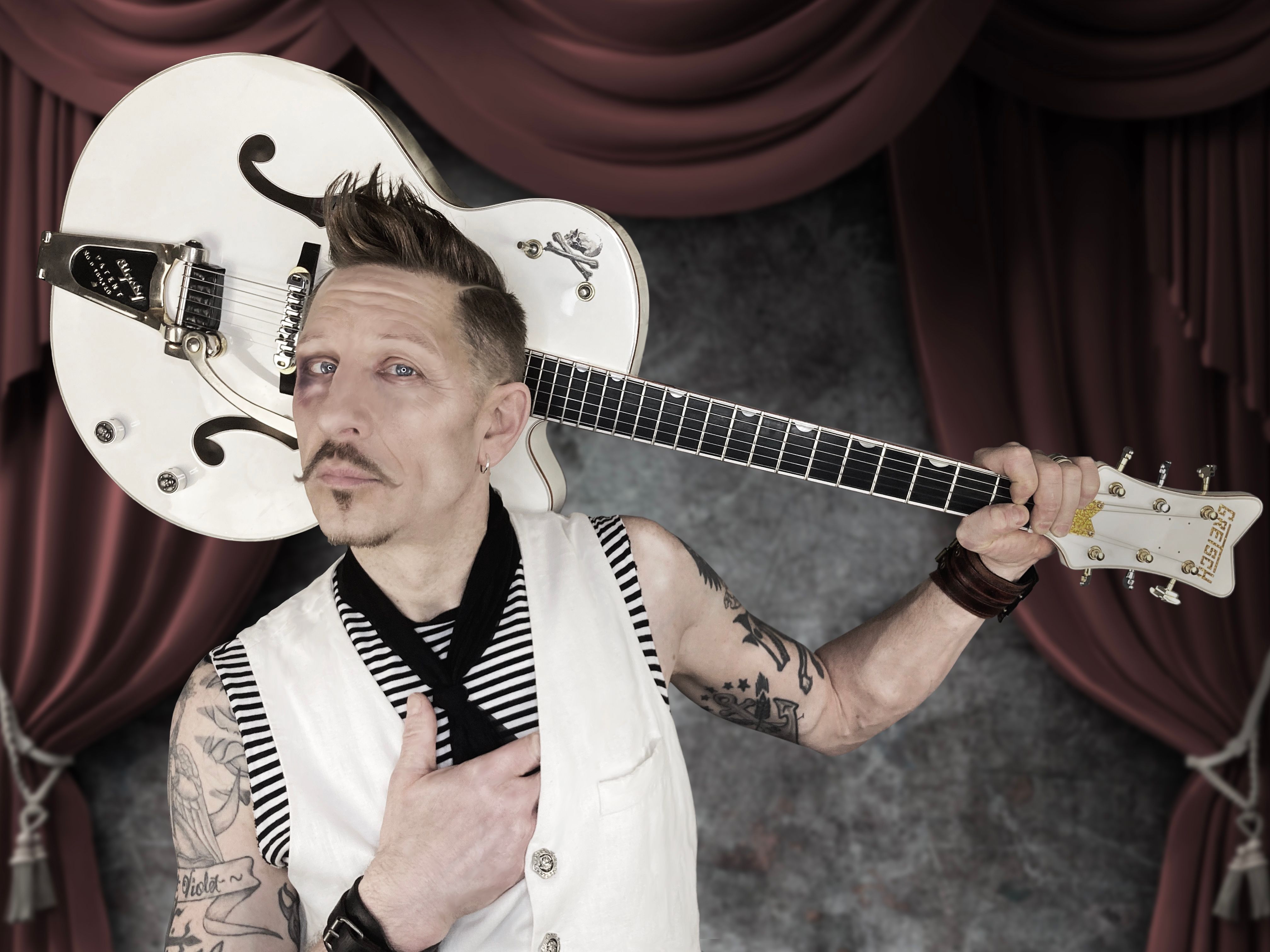 ---
LIVE PERFORMANCES
---
INDUSTRY QUOTES
  "...energetic and entertaining...a true crowd favourite..."   YYC Music Awards
"...smart and really entertaining..."  Holger Petersen: CKUA, CBC Radio
"… vibrant music and an exciting performance that set the bar for years to come…"   PEAK Music Festival
"... a must have act when looking to excite your audience..."  South Country Fair 
"...an endlessly entertaining sound that transcends all ages..."  Beaumont Blues & Roots Festival
"...one of the most memorable ways to end BVJ in the past 10 years..."  Big Valley Jamboree
---
---
BIOGRAPHY
"The goal of Punch Drunk Cabaret is to make every show an event", declares founding frontman, Randal X Bailer. "And for that to happen, the audience has to be part of the show." Which explains why every performance is peppered with spirited sing-a-longs and invites to turn the isles into dance floors. The result has been an ever-growing following that not only reflects the band's stylish fashion sense, but is willing to drive hours to take part in the show. It's that dedication to showmanship that's secured Punch Drunk Cabaret many a festival mainstage appearance, often closing out the night due to the unmatched energy of their live set.
Fronted by Randal X Bailer who channels the theatricality of David Bowie and the guitar bravado of Stray Cats, Brian Setzer, it's no surprise the Punch Drunk Cabaret sound is a potent cocktail of high energy rockabilly swing, burlesque blues, and anthemic 80's inspired alt-rock. The trio is rounded out Teddy Twotone Roy who plays both electric and stand-up bass, and new recruit, keyboardist/ percussionist, Rob Robot Ducharme. 
Although considering themselves a "live act first", Punch Drunk Cabaret has steadily been accumulating awards and nominations for their recordings and music videos. They are the first-ever Alberta act to win both an Edmonton and Calgary Music Award. Even amidst the pandemic shutdown of live events, the band still managed to clinch a pair of international awards for Best Soundtrack following their contributions to the indie flick, Boneyard Racers.
---
BOOKINGS & PRESS INQUIRIES
---
PAST PERFORMANCES
 ~FESTIVALS~
 The Grand Canadian Steampunk Exposition (Ontario)
 Edmonton K-Days (with Honeymoon Suite/Streetheart)
PEAK Music Festival (Cranbrook, BC)
 Medicine Hat Jazz Fest
The Verge Arts Fest (Cold Lake, AB)
 All Folked Up (Montmarte, SK)
 North Country Fair (Slave Lake, AB)
 South Country Fair (Ft. McLeod, AB)
 Beaumont Blues and Roots Festival 
 Big Valley Jamboree (Camrose, AB)
 Magnificent River Rats Festival (Athabasca)
 Whyte Ave Block Party (Edmonton) 
 Oldstoberfest (Olds, AB)
 Scarecrow Fest (Grande Prairie, AB)
 Party in the Park (Whitecourt)
 Edmonton Rock & Roll Society's Rock Fest
 Waynestock (Wayne, AB)
 Ribfest (Kamloops,BC)
 Dogpatch Music Festival (Whelan, SK)
 Robson Valley Music Festival (Dunster, BC)
 Rose City Rockabilly Rumble (Camrose, AB) 
 Deep Freeze Fest (Edmonton)
 Ice on Whyte Fest (Edmonton)
 Lilac Festival (Calgary, AB)
 Summer Festival with Kim Mitchell (Wetaskiwin, AB)
 Wild Oates and Notes Festival (Tofield, AB)
 Alberta's Own Indie Festival (Lacombe, AB)
 Sasquatch Gathering (Rangeton Park, AB) 
 Dragonfly Music Festival (Wabamun, AB)
 Arts & Ag Festival (Wetaskiwin, AB)
 ~SPECIAL EVENTS~
Boneyard Racers (film appearance and soundtrack)
 The Moment: Season 1 television series
 YYCMA Music Awards
 Tim Horton's Brier (Calgary)
 Edmonton Eskimos Fanfare 
 Jasper in January
 Taste of Calgary
 Icons & Upstarts Tour (with Jay Semko of the Northern Pikes)
 University of Alberta Week of Welcome (with July Talk)
 Untapped Alberta Showcase 
 Manluk Theatre Grande Opening (Wetaskiwin)
 Lido Theatre Rocks (Ft. St. John)
 Apex Casino Vintage Car Show
 Wembley Mayhem Show & Shine
 Grand Opening of the Lougheed Performing Arts Centre
 International Craft Beer Festival (Edmonton/ Calgary) 
 Arts Touring Alliance of Alberta SHOWCASE 
 Alberta Culture Days
 Underground Music Society (Peace River, AB) 
 Edmonton Rock & Roll Society's Rock the Fort
 Kamloops Music in the Park 
 Red Deer's Summer Sundays in the Park 
 City of Spruce Grove Canada Day Celebration (with Harlequin)
 Edmonton Steampunk Society Ball 
 The Bailey Theatre Halloween Bash (Camrose, AB) 
 The Bailey Theatre New Years Extravaganza 
 Humans Helping Humans Fundraiser (Drayton Valley, AB)
 Ft. McMurray Fire Relief Fundraiser (Nisku, AB)
 Labatts Show & Shine (Wetaskiwin, AB)
 Jaywalkers Jamboree (Camrose, AB)
 International Beer Fest (Edmonton)
 MS Walk Main Stage (Calgary) 
 ~CLUBS & CASINOS~
Pure Casino Calgary with House of Hush Burlesque
 Better Than Freds (Grande Prairie) with Bif Naked
 Gold Eagle Casino (North Battleford) with Trooper
Century Casino (Edmonton) with Darkroom
 Ironwood Stage & Grill
 The Grande Parlour (Cold Lake)
 Starlite Room (Edmonton)
 The Station on Jasper (Edmonton)
 Amigos (Saskatoon)
 Castle Mountain Ski Resort (Pincher Creek)
 Lake Louise Inn 
 Apex Casino (Edmonton)
 The Capital Music Club (Saskatoon)
 On The Rocks (Edmonton) 
 Blues on Whyte (Edmonton)
 The Root: Community Emporium (Lloydminster)
 DV8 (Edmonton)
 The Nite Owl (Calgary)  
 Gametime Sports Bar (Calgary)
 The Rose & Crown (Banff) 
 The Vat (Red Deer) 
 Fratter's Speakeasy (Red Deer) 
 Bourbon Room (St. Albert)
 Ridge Pub (Slave Lake)
 The Tap Room Bar & Brewery (Camrose)
 Billy Bobs (Red Deer)
 The Grey Goose Pub (Hanna)
~CORPORATE~
 Alberta Veterinary Medical Association
 Wild North Wildlife Rehabilitation
 Entrepreneurs Organization of Canada
 Minerals North Mining Conference
 Camrose Chamber of Commerce
 Carmacks Construction